An Opening & Customer Appreciation nite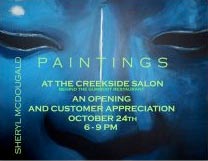 On October 24th we invited customers to join us in a night of appreciation and celebration. The night was also the opening of a beautiful show by Sheryl McDougald. We hope you'll drop by and see the show if you haven't yet – the work is really fabulous!
Here's a slideshow with some peaks at the evening.